Client Testimonials
Don't just take our word for it, see what some of our clients have to say about their experiences with UCover.
Clarke and Joanne Cody, Lara, Victoria
Here's what Clarke and Joanne Cody have to say about their experience with WageGuard when Clarke underwent surgery to have a brain tumour removed.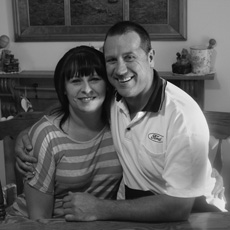 WageGuard was really good because whenever I had to speak to my consultant he just made it really easy.
Having 3 children and Clarke being the sole income earner, because of WageGuard we didn't have to worry about how the next bill was going to be paid. It was just a good feeling to know that I don't have to worry - it was just a normal wage coming in, our concentration was on Clarke, because that [the surgery] was stressful enough.
We didn't know after the first operations if we were even going to have Clarke with us any longer. Then during the recovery process, Clarke got an infection and had to have part of his skull removed. We had to have a nurse in the house for over 3 months.
You don't want the stress of worrying when your next pay is coming in, all the stress was gone with WageGuard. It was like talking to a friend. WageGuard allowed us to deal with Clarke's recovery 100%. There were no worries.
Harry Maxwell
Harry was left unable to work for over 3 months following a serious motorbike accident. With a new baby on the way, see what he had to say about his WageGuard experience.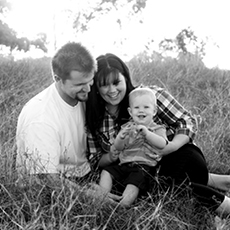 Recently I had an accident that would have caused big problems financially if I had not had income protection.
At the time, my wife was 8 months pregnant and had stopped work so she could become a mum. The bills still needed to be paid and were going to get bigger with a new baby to pay for. We had budgeted for all of this and we felt quite comfortable that we would be able to cope with only my wage coming in, and we had a bit saved up to fall back on if needed.
It wasn't long after my wife stopped work that I was out riding a motorbike with a few mates, and had a pretty bad crash, from which I ended up with a badly broken wrist and busted shoulder. This we hadn't budgeted for, and after all of the surgery bills to get my wrist back in place the savings account was looking rather depleted.
Being right handed and with my right arm pretty much unusable, I was unable to even take the option of light duties at work to keep some money coming in. The surgeon had given me three months off work to heal and go through physiotherapy to get my wrist working again. There was no way that my company sick leave was going to last for that long, so we would have at some stage run into some real problems of not making mortgage repayments and other payments.
This is where Income Protection Insurance was a life saver, as they paid me 90% of the income I had made in the last twelve months including all overtime, and not the base annual salary I would have got without overtime. It was almost like I hadn't actually stopped work. I was able to relax and get over my injury, as well as enjoy my new born son without the issue of unpaid bills standing over my head.
I would strongly recommend getting Income Protection Insurance for anyone with an active outdoor lifestyle, it only takes a split second and you could end up in the same position I was in.
W.A, Griffin
Due to a recent medical condition, I needed to avail myself of WageGuard Income Protection Insurance. I found the experience was a positive one with the staff very available and obliging at all times. They were willing to answer any questions and queries and return my phone calls as promptly as possible.
Rod Warren
I have been dealing with Jennifer Grocott [WageGuard Claims Consultant] and could not be happier with the way she has kept me informed with where my claim was at. Jennifer is very professional, helpful and an absolute pleasure to deal with. I am very appreciative of Jennifer's work and I can see that she is very committed to helping people with their claims and not making it a headache and for that, I thank you.
Anon, Victoria
Have been happy with service of both consultants I have dealt with, consultants have been willing to talk, not just yes/no then hang up. Consultants keep you up to date regularly with claim and payment status. You can hear the tone in their voice that they show compassion while discussing your health concerns.