Top Global Business Risk Concerns for 2022
Despite another year of pandemic-related business disruption and crippling natural disasters, cyber has ranked as the number one concern for businesses globally in 2022, according to the latest Allianz Risk Barometer Report.
The past 18 months have pushed many businesses to breaking point and exposed just how fragile and complex our modern supply chains have become. Physical losses and supply chain impacts from extreme weather events have also been a test of business resilience, with climate change receiving its highest ever position in the Risk Barometer.

While many hope to see a gradual easing of the situation this year, business interruption caused by various triggers will likely remain the underlying risk theme for 2022. Find out more about the top 10 global business risks concerning businesses worldwide in the year ahead.
1. Cyber Incidents
Cyber risk hit the top spot in this year's Allianz report. This is unsurprising given the rise in cyberattacks, the accelerated digitalisation of supply chains, and the growing reliance on digital infrastructure across various industries. The shift to remote working has also opened opportunities for hackers to exploit new vulnerabilities.

As technology advances and the cyber threat landscape evolves, businesses must take proactive steps to help minimise their cyber risk and build organisation-wide cyber resilience.
2. Business Interruption
Whether the trigger is extreme weather, cyberattack, manufacturing issues or pandemic outbreak, it can take only a short period of closure or scaled-back operations to have a long-lasting impact on the future viability of a business.

During 2021, we saw unprecedented levels of supply chain disruption as businesses struggled to secure critical components due to capacity issues and labour shortages. As a result, not producing and delivering products or services to customers was becoming a real problem.

But despite the ongoing effects of Covid-19 and the resulting disruption, according to this year's report, the most feared cause of business interruption is cyber incidents. This reflects the rise in ransomware attacks and the impact of the growing reliance on digital solutions and remote working arrangements.
3. Natural Catastrophes
The frequency and severity of extreme weather events are increasing globally due to global warming. As a result, by 2021, global insured catastrophe losses were well over $100 billion2.

In Australia, insurers have paid out more than $8.9 billion in natural disaster claims, with more than $6.1 billion being paid out since the 2019/20 Black Summer bushfires2.

This year's report shows growing concern globally amongst respondents regarding natural catastrophes. Not only because of the damage to physical property and assets but the resultant business interruption and supply chain impacts. This has seen natural disasters jump up three places since last year's report, while climate change records it highest-ever position of sixth.
4. Pandemic Outbreak
The Covid-19 pandemic was a wake-up call for everyone, exposing not only how interconnected we have become but also just how unprepared most businesses were to respond to a pandemic situation.

While emerging variants still pose the threat of ongoing disruption and restrictions for many countries, pandemic risk has dropped two positions in this years risk report. Most respondents now consider themselves 'adequately' or 'well-prepared' and are confident in their ongoing contingency plans.

Working through the pandemic has permanently changed the business world, exponential growth in digitalisation and enhanced reliance on technology has further increased businesses vulnerability to cyber threats.
5. Changes in Legislation and Regulation
According to this year's report, there seem to be two significant areas of impact - big tech and sustainability. In addition, more attention is being placed on environmental social and governance (ESG) issues, with new regulations and guidance leading to tougher disclosure and reporting rules for businesses.

According to the report, anti-competitive practices in the tech and data sector are also likely to come under fire.
6. Climate Change
The risks of global warming and the pressure for businesses to act have increased over the past 12 months, and there is no real sign of slowing down. Rising regulatory and legal risks associated with climate change are at the forefront, particularly for those in high carbon-emitting sectors.

Net-zero commitments made by the private sector are also likely to grow as corporate decision-makers look more closely at climate change mitigation strategies to decarbonise and manage the resources they use. It will also be about establishing business opportunities for climate-friendly technologies and sustainable products and rethinking protection measures for sites and production plants.
7. Fire, Explosion
According to Allianz, fire/explosion (excluding wildfires) was the largest single cause of loss for businesses worldwide over five years up until the end of 2018.

In saying this, the loss is not just material damage to property or stock. A significant incident like fire can prevent businesses from reaching their customers or resuming their daily operations for extended periods. This can have a ripple effect on several stakeholders involved.

While fire risk is hard to eliminate completely, there is still plenty businesses can do. Reviewing fire mitigation strategies regularly and having a contingency plan in place following a disaster can give your business the best chance of lowering the risk of loss from an incident.
8. Market Developments
Global growth is likely to remain relatively strong, with global output expected to increase by +4.1% in 2022. However, continued supply-demand imbalances will also likely keep inflation rates high until mid-2022.

Global trade is expanding above the long-term average but returns to normal trade flows will likely take more time. This growth, however, could be hindered by vaccination rates, policy choices, clogged supply chains and material and labour shortages amplified by Omicron.
9. Labour Shortages
Shortage of skilled labour is a new risk to enter the top 10. And while it ranks at number 9, report respondents put talent shortages as a top 5 business risk in the engineering, construction, real estate, government, public service, and healthcare sectors, and as the top risk for the transportation sector.

Even before Covid-19, the labour market was under pressure. Now with older employees retiring and the changing needs of potential employees, such as flexible work arrangements, it is becoming particularly difficult for employers to find the right workers.
10. Macroeconomic Development
We saw economic activity in Australia take a deep dive in September 2021 due to the extended lockdowns associated with the Delta variant outbreak. At the start of a new year, market volatility is set to increase, and the repurcussions of the economic turnaround will be felt globally.

To jumpstart a sustained economic recovery, governments are relying on ongoing vaccination rollouts and policy stimulus, as well as a gradual withdrawal of monetary and fiscal policy support.
What are the key risks for your business?
Request an obligation free Risk Hazard Report today.

Click here to request a Risk Hazard report for your business activity and location.

Your report will contain hazard index ratings linked for your specific industry plus accurate natural catastrophe data for your business location. These reports can be used as a tool along with advice from your broker to help you make informed insurance decisions.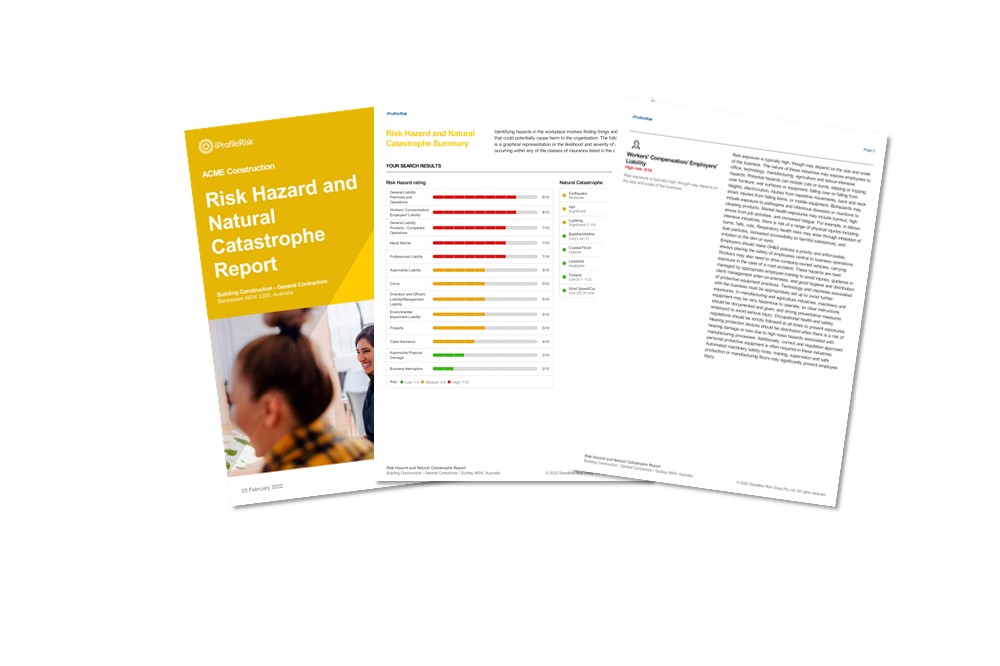 About Coverforce
At Coverforce, our expert team of brokers are here to help protect the financial future of your business. For personalised risk advice and highly competitive insurance solutions tailored to your business' needs and budget, contact your local Coverforce office or call 1 3000 COVER.

The information provided in this article is of a general nature only and has been prepared without taking into account your individual objectives, financial situation or needs. If you require advice that is tailored to your specific business or individual circumstances, please contact Coverforce directly.
REFERENCES



Find this article helpful? Click on one of the links below to share the content.